Published: Monday, December 14, 2020 12:54 PM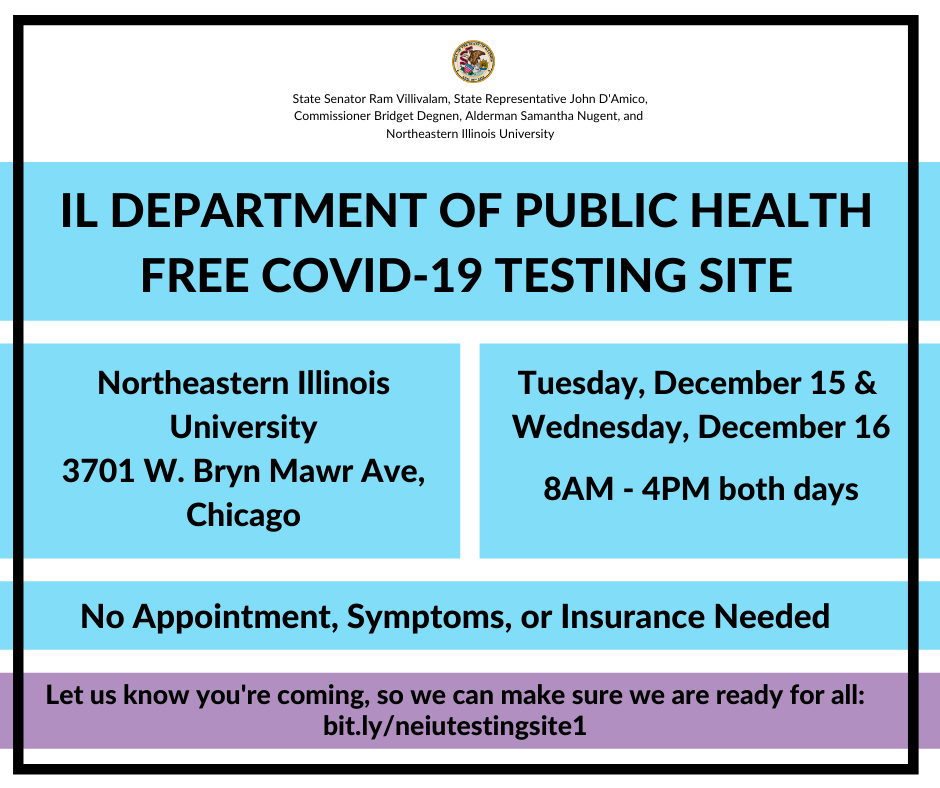 CHICAGO – State Senator Ram Villivalam (D-Chicago), State Rep. John D'Amico (D-Chicago), Commissioner Bridget Degnen and Alderperson Samantha Nugent are partnering to bring a remote COVID testing site to Northeastern Illinois University this Tuesday and Wednesday.
"We are facing an unprecedented public health crisis that has tragically impacted numerous families in our community and has exhausted our frontline workers," Villivalam said. "Even though there seems to be a light at the end of the tunnel, we must stay vigilant. I encourage everyone to get tested at NEIU these next two days. No symptoms, insurance or appointments are required."
Free COVID-19 Testing at Northeastern Illinois University
Tuesday, Dec. 15 and Wednesday, Dec. 16, 8 a.m. – 4 p.m.
Northeastern Illinois University, 3701 W. Bryn Mawr Ave., Chicago, IL 60646
No appointments are required, but residents are encouraged to RSVP online to ensure the IDPH mobile testing site is as prepared as possible. Walk-up and drive-through options are available, and results will be delivered within four to seven days by phone. A consent form is required and residents are strongly encouraged to bring the completed form with them to streamline the testing process.
Category: Events