Published: Wednesday, November 17, 2021 10:29 AM
­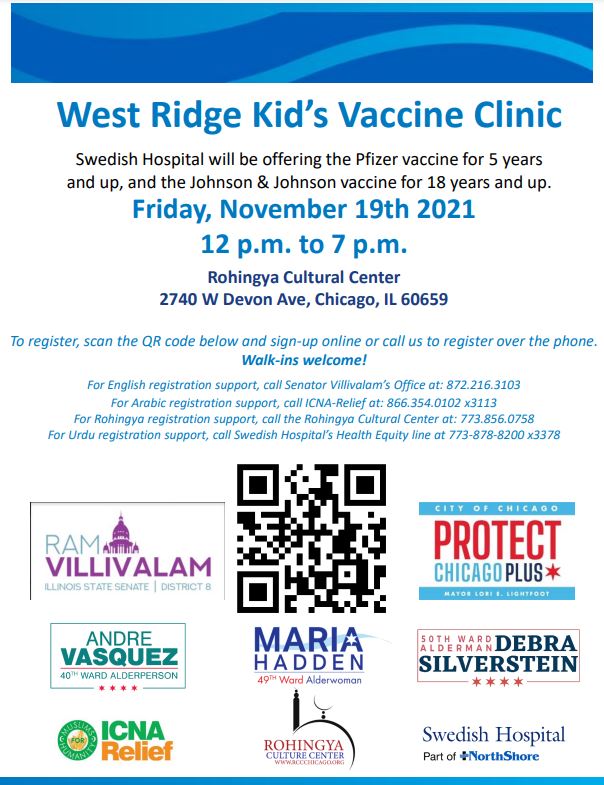 CHICAGO – State Senator Ram Villivalam (D-Chicago) and Alderperson Debra Silverstein partnering with the Rohingya Cultural Center, Swedish Covenant Hospital, ICNA Relief and the city of Chicago to offer a free COVID-19 vaccination clinic for children in the West Ridge area. The clinic will also offer booster shots to anyone who needs one.
"Getting vaccinated is the best way for us to protect our community's public health and end the pandemic," Villivalam said. "I encourage anyone with questions on the vaccine to join us to learn more and get their shot."
The clinic is an initiative of the $9.6 million Healthy Chicago Equity Zone program, which outlines strategies to close the racial life expectancy gap in communities of color across Chicago. This event also aims to address language and technology barriers that immigrant communities face when accessing the vaccine, and offers assistance in Arabic, Rohingya and Urdu.
Children 5 and older in the West Ridge area are eligible to receive the Pfizer vaccine at this free clinic. Johnson and Johnson booster shots will be available for parents and guardians 18 and older, who must be present to vaccinate their child.
WHO: State Senator Ram Villivalam, Alderperson Debra Silverstein, Alderperson Andre Vasquez, Jr., Alderperson Maria E. Hadden
WHAT: COVID-19 Vaccination Clinic for Children
WHEN: Friday, Nov. 19, 2021 at noon-7 p.m.
WHERE: Rohingya Cultural Center, 2740 W. Devon Ave., Chicago, IL 60659
Category: Events