Published: Thursday, November 14, 2019 12:31 PM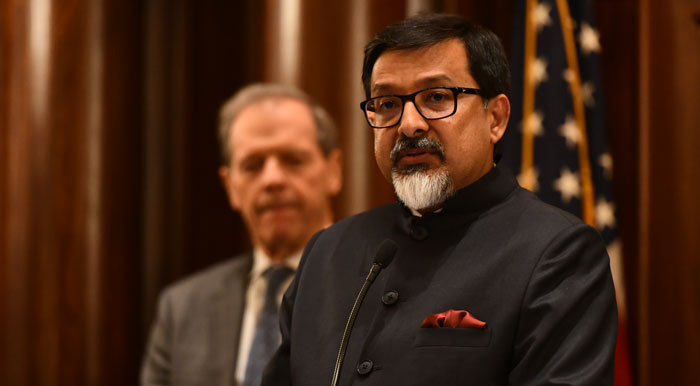 SPRINGFIELD – Indian Consul General Sudhakar Dalela was welcomed to Springfield thanks to efforts lead by State Senator Ram Villivalam (D-Chicago). Villivalam facilitated various meetings between Consul General Dalela, Governor Pritzker and other Illinois leaders before Consul General Dalela addressed the Illinois House and Senate.
Villivalam, the first elected Indian-American legislator in Illinois, highlighted the importance of our state's relationship with India.
"India is the largest democracy in the world, and with democracies in decline across the globe, it is more important than ever to preserve our relationship," Villivalam said. "India contributes so much to our county – and to Illinois in particular. I'm very grateful that the Consul General came to Springfield and showed his commitment to our state."
In his address, Dalela touched on the United States' and India's shared democratic values.
"As vibrant democracies, India and the U.S. share many common values and aspirations," Dalela said. "Our partnership is based on our shared values, such as respect for rule of law, human freedom, free and independent media, and a strong civil society."
Upholding mutually beneficial economic relations and trade agreements, though, were Dalela's primary focuses. As the economic hub of the Midwest, Chicago and Illinois enjoy wide-ranging partnerships with India in areas such as trade, education, business and technology. Over 100 Illinois-based companies have locations in India, and Illinois exports roughly $723 million in goods to India.
Sudhakar Dalela has served in the Indian Foreign Service since 1993 and has been stationed in Israel, Brazil, Switzerland, Bangladesh and Washington, D.C. before serving the Midwest in Chicago. Before his work in the Indian Foreign Service, Dalela was a representative for the Permanent Mission of India to the World Trade Organization, a Director in the Prime Minister's Office and a Joint Secretary overseeing India's relations with Bhutan and Nepal.
Category: News