Published: Wednesday, March 09, 2022 11:20 AM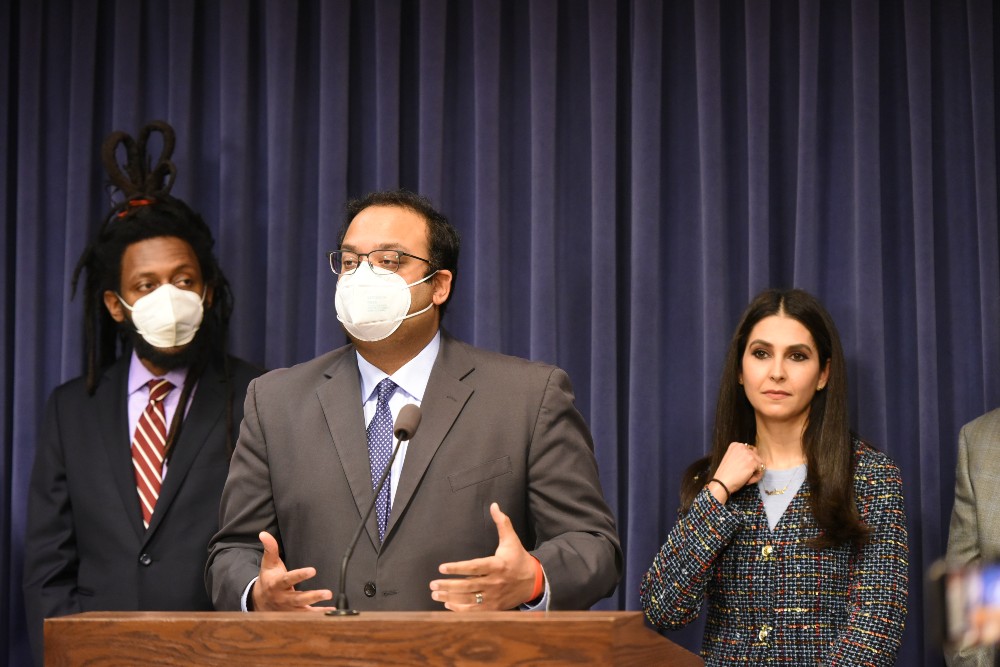 SPRINGFIELD — State Senator Ram Villivalam (D-Chicago) and State Representative Jennifer Gong-Gershowitz (D-Glenview) announced the formation of the bipartisan, bicameral Illinois Assyrian Caucus today. The Illinois Assyrian Caucus will bring together members of the General Assembly to advocate for Illinois's Assyrian community by providing a unified platform to educate the public on Assyrian-American identities and issues. Illinois is the first in the nation to establish a statewide caucus on Assyrian issues.
"Illinois is the most welcoming state in the nation and home to hundreds of diverse ethnic communities," Villivalam said. "Together, we can elevate the voices of our Assyrian-American neighbors and partner in a united effort in addressing the issues their community faces."
Founding members of the caucus include State Senators Cristina Castro (D-Elgin), Sara Feigenholtz (D-Chicago), Laura Fine (D-Glenview), Adriane Johnson (D-Buffalo Grove), Laura Murphy (D-Des Plaines), Mike Simmons (D-Chicago), Celina Villanueva (D-Chicago), and Representatives Kelly Cassidy (D-Chicago), Deb Conroy (D-Villa Park), Amy Grant (R-Wheaton), Maura Hirschauer (D-West Chicago), Michael Kelly (D-Chicago), Lindsey LaPointe (D-Chicago), Michelle Mussman (D-Schaumburg), Denyse Stoneback (D-Skokie) and Mark Walker (D-Arlington Heights).
"Assyrian Americans deserve a voice in state government and the formation of the Illinois Assyrian Caucus is an important step in ensuring that this vibrant, unique community is heard," Gong-Gershowitz said. "I'm proud that Illinois is leading the way with the first statewide caucus on Assyrian issues in the nation."
The Assyrian American community welcomed the announcement of the caucus.
"I warmly welcome the formation of the Illinois Assyrian Caucus," said Bishop Mar Gewargis Younan of the Ancient Church of the East. "It is incredibly important for legislators and the general public to learn and appreciate the many contributions of Assyrian-Americans to the State of Illinois over the course of the past century. I am optimistic that convening this group on a regular basis will not only advance Assyrian-American interests, but also help create a lasting understanding and unity among the many communities that make up Illinois."
"The Assyrian American Bar Association supports the bipartisan Illinois Assyrian Caucus as a forum to discuss and address the needs of the Assyrian American community in Illinois. We look forward to the opportunity to collaborate with the Illinois Assyrian Caucus on issues important to our community, and we thank the organizers for making this caucus possible," said the Assyrian American Bar Association.
"I am delighted at the formation of the Illinois Assyrian Caucus, in recognition of the value and importance of the Assyrian-American community in Illinois," said Bishop Mar Paulus Benjamin of the Assyrian Church of the East. "I'm hopeful that this new caucus will help ensure that the state legislature stays informed of the concerns and needs of our community and I look forward to its growth in membership and influence."
"The launch of the Illinois Assyrian Caucus in the state legislature is a welcome development and marks a pivotal day for the Assyrian-American community," said Sheba Mando, President of the Assyrian National Council of Illinois. "We are so proud to see this historic bipartisan caucus come to fruition today, and we are grateful for the leadership of co-chairs Senator Villivalam and Representative Gong-Gershowitz. It is important to make this vulnerable community a priority in Springfield. We look forward to working with the caucus to promote policies that help Assyrian-Americans thrive across Illinois."
"We are thrilled to see the formation of the Illinois Assyrian Caucus in the Illinois General Assembly," said Atour Sargon, Village of Lincolnwood Trustee and Vice Chair of the Assyrian Policy Institute. "This caucus will lead to heightened visibility for Assyrian-Americans in Illinois and a better understanding of our community's unique needs. We're grateful that our leaders in Springfield are signaling that the Assyrian-American community is a priority, and we look forward to working with them and other community stakeholders to expand caucus membership and elevate the voices of Assyrian-Americans across Illinois."
Category: Press Releases