Published: Saturday, January 05, 2019 06:39 PM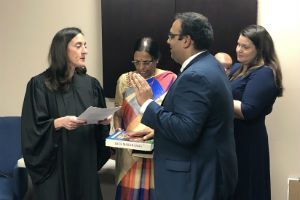 SPRINGFIELD – Ram Villivalam was sworn into office Saturday evening in Skokie. Senator Villivalam was sworn in by Judge Colleen Daly while surrounded by his wife, Elizabeth, their son, Rohan, as well as his mother, family and friends. He took his oath on a copy of the Bhagavad Gita, a Hindu holy book, bought for his mother by his late grandfather.
Villivalam is the first Asian-American to be elected to the Illinois Senate and the first South Asian member of the Illinois General Assembly.
"I am honored to represent our communities in the Illinois Senate," said Villivalam, a Democrat from Chicago. "I look forward to bringing progressive, proactive, and effective representation to the 8th District."
Villivalam's priorities upon entering the General Assembly includes legislation for a $15 minimum wage, a progressive income tax, gun violence prevention, women's rights, and LGBTQ rights.
"Diversity in who is making decisions for our communities is essential. I am also proud to join one of the most diverse groups of legislators this state and country have ever seen, a group that will work for and with our communities to ensure the needs of all residents are considered and respected."
The 8th Senate District includes 21 neighborhoods on the Northwest Side of Chicago as well as parts of Lincolnwood, Niles, Morton Grove, Skokie, Glenview, Park Ridge and unincorporated Des Plaines.
The 101st General Assembly will be inaugurated during ceremonies Wednesday, Jan. 9, in Springfield.
Category: Press Releases