Published: Tuesday, March 03, 2020 05:22 PM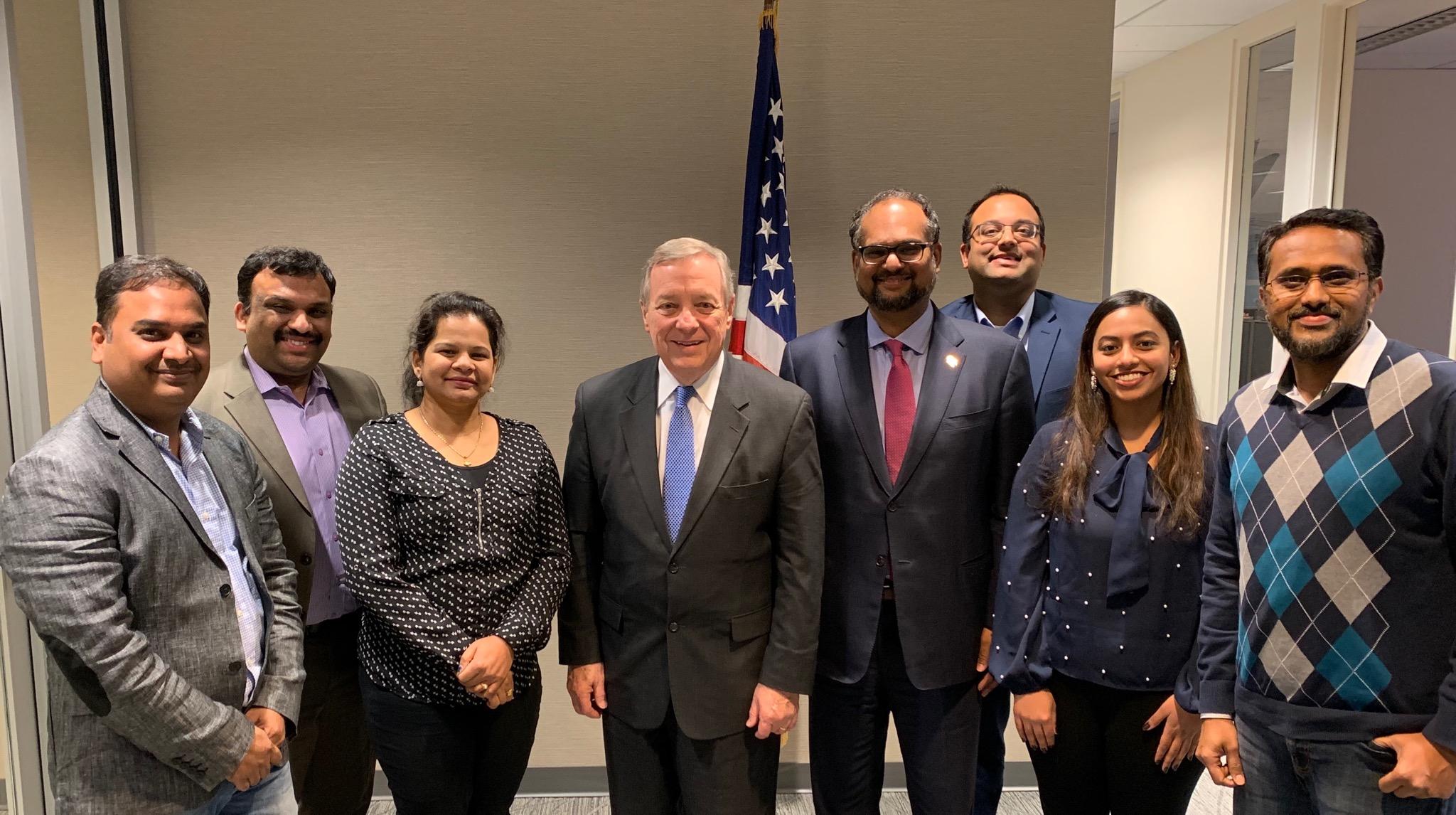 On Friday, February 7, 2020, State Sen. Ram Villivalam and Dinkar Karumuri, a local Technology entrepreneur and a community leader, met U.S. Sen. Dick Durbin, along with a few immigrant family members from various backgrounds, all of them waiting for more than a decade in the green card approval queue.
Sen. Durbin took the time to hear their stories and explain the improvements he negotiated to the Fairness for High-Skilled Immigrants Act (S. 386). Dinkar Karumuri thanked the senator for his advocacy and support of immigrants throughout his career in public service, while also indicating the desperate nature of the immigrant community's situation, that there are several stories to share, and that, at the meeting, they had representatives reflective of the population. Sen. Durbin was interested in hearing the stories.
Tanmayi Achanti, a recent graduate of UIC, explained her plight of having to convert her immigration status to an international student visa during her finals and how aging out hindered the opportunities in her job hunt. "I came here along with my parents in the year 2000, as a 3-year-old kid. Chicago is my home, but I am and feel like an alien in my own home now. I moved to a student visa, and it was devastating for my parents and me. At the same time, we see the job offers get rejected even after I am qualified and for the sole reason of companies not being able to sponsor for my work visa per their policy. I stayed strong to console my parent's pain," she said.
Neelima Boddu, a mother of a bright Illinois Math and Science Academy student, Rishita Boddu, explained how the wait time in issuing the EADs and APs had been increased over the years now. "My daughter fares well in academics. She goes to IMSA. She gets a lot of intern opportunities over summer, but she can't take any as she doesn't have the right visa. We never get to see my parents or travel since my daughter gets visa after nine months' delay, and it expires soon after we receive, and the cycle continues."
Raj Potluri, a professional with 18 years of experience in Financial Technology, said, "I applied for H4 EAD in October, my wife got her H1 approved but not mine. I used to manage large teams, and now I have no choice but to sit at home. I am laid off from work as my employer could not wait for me for my visa to be approved. Besides that, my daughter was invited to internships from Yale & Georgetown Universities, asking her to decline those offers was very hard." It's not the end of the story for him, "I can't even drive my kid to school as the Secretary of State renews driving licenses only till the end of H4 validity and doesn't consider the approval wait period." He seeks help from family & friends to drive around as and when needed.
Sri Sailesh Maddi, an IT professional, mentioned how he entered the US as a student in 2007 and secured a job during the Recession of 2008 while everyone around him was losing jobs. "I did everything right to get a good education and a job. During the marriage, I told my wife that we would get a green card in 3 years. I say the same thing even after a decade now. This joke has been a harsh reality of my life now. I am in the 6th renewal for work visa. The H1 approvals used to take 30 days or so. But now the renewals are taking nearly 12 months. I can't move in career easily since the Green Card process has to start again. My kids are US citizens, yet the probability of losing the visa frightens me that I have to take kids to India and to raise them away from their home country."
Raj Adagatla, a software engineer, says, "I came to this country in 2007 with an 8-year-old and a 5-year-old. The elder one will age out, if this bill doesn't pass by Aug. 2020 and younger one may follow the same in three years. My older kid, after being able to secure a job but was rejected the offer a week later since the company cannot sponsor a visa for him. These shattered his dreams."
Dinkar Karumuri said, "There are doctors out there in rural areas who see thousands of patients a year. They make lives better, but they constantly suffer from insecurity in their own lives. One thing in common for all these families is uncertainty."
To reduce the dependency on the foreign workers, Dinkar informed Sen. Durbin regarding a not-for-profit he founded along with other tech leaders called "Center for IT Talent Acceleration." This organization is working in tandem with City Colleges of Chicago for CPS students to go through an apprenticeship program. Sen. Durbin expressed interest in learning more about this program.
Sen. Durbin and his staff explained how the amendments to the S.386 bill he negotiated with Sen. Lee address issues many of the families are facing, namely provisions to protect aging out children and protections for immigrant workers' ability to change jobs and travel.
Still, some of the challenges are within the State jurisdiction. To address that, Sen. Ram Villivalam indicated that he is working on introducing bills for tuition fees and driver's licenses and stated that this meeting does not just talk about the five families in the room; it represents all the 500,000 immigrants' families who have been suffering for years. Sen. Durbin and his staff reiterated their commitment to help individuals and families with related cases with USCIS for any constituents who need help.
Senate Bill S.386 – Fairness for High-Skilled Immigrants Act of 2019 was introduced by Senator Mike Lee and Senator Kamala Harris in February 2019. Back in early July 2019, HR 1044 Bill to Remove Per Country Limits was passed in the House and was introduced in the Senate and assigned to the Senate Judiciary Committee. Also, around the same time in the Senate, we had a similar Bill S. 386, which was more or less like HR 1044 Bill, amended as per Senator Grassley's request adding clauses of H1B, LCA related topics. There has been a lot of debate on this bill since then by many groups and eventually, the deal made between Sen. Durbin & Sen. Lee.
In October, Sen. Durbin, along with Senators Patrick Leahy (D-VT) and Mazie Hirono (D-HI), introduced the Resolving Extended Limbo for Immigrant Employees and Families (RELIEF) Act, which would eliminate the family and employment Green Card backlog over five years, help keep American families together by classifying spouses and children of lawful permanent residents (LPRs) as immediate relatives and exempting derivative beneficiaries of employment-based petitions from annual Green Card limits, protect "aging out" children who qualify for LPR status based on a parent's immigration petition, and lift country caps.
Category: Press Releases