Published: Tuesday, May 12, 2020 10:29 AM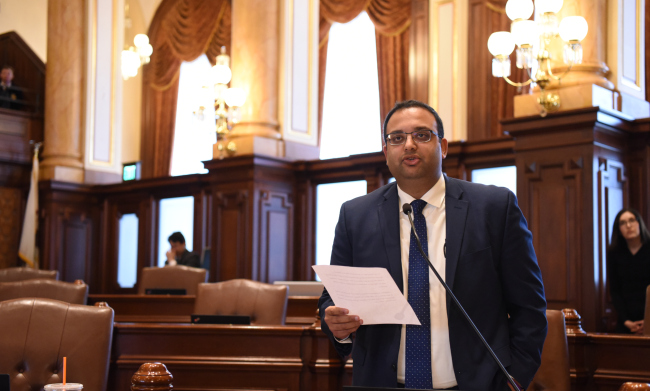 CHICAGO
– State Senator
Ram Villivalam (D-Chicago) testified on Monday, May 11 to the Chicago City Council's Committee on Workforce Development, urging it to support his proposal to enshrine the right to unionize in the Illinois Constitution.
"We hear the term 'backbone of the economy' all the time," Villivalam said. "This amendment to the Illinois Constitution would protect the real backbone of our economy: the women and men who work the everyday jobs that keep all companies, big and small, in business."
Villivalam's legislation would create constitutional protections for workers' rights to collectively bargain over wages, hours, terms, and conditions. Though these rights are currently protected by Illinois law, there have been efforts across the country to weaken union bargaining rights.
In his remarks to the committee, Villivalam acknowledged that the COVID-19 pandemic has created challenges for businesses and workers alike, but he believes this is exactly the time we need to be talking about workers' rights.
"As our economy recovers, I want to see businesses succeed and prosper," Villivalam said. "But, I also want to make sure that Illinois' workers have a significant seat at the table as we rebuild our economy so that our recovery benefits everyone – not just the CEOs."
Villivalam's legislation is Senate Joint Resolution Constitutional Amendment 23, which will be read into the record when the General Assembly returns to Springfield. If approved by the legislature, voters would have the opportunity to approve it during the next eligible General Election.
Category: Press Releases